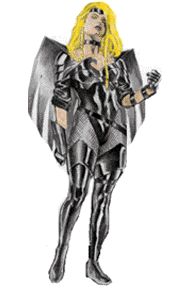 Black Canary
Characteristics
 20  STR    10
 29  DEX    57
 18  CON    16
 12  BOD     4
 20  INT    10
 14  EGO     8
 18  PRE     8
 26  COM     8
 8   PD      4
 8   ED      4
 7   SPD    31
 8   REC     -     No disadvantages, All experience
 36  END     -     (Dinah Lance)
 31  STN     -    
 
Powers
    93  8d6 Energy Blast, NND (flash def vs hearing or hard ear cover) Area
            of Effect Cone (8") 0 End, No Rng
    27  2d6 Flash vs Hearing Group, AOE Cone, x2 Area (8") !0 End, No Range,
          Linked to NND
    17  2d6 Energy Blast, NND, Does Body, AOE Cone, x4 Area (8"), !0 End, No
          Range, Linked to NND, Only vs brittle objects (-1)

     5  Flash Defense vs Hearing Group

     3  Prof Skill: Florist 14-

     9  Concealment, Criminology, Deduction 13-
     9  Breakfall, Climbing, Stealth 15-
     9  Conversation, Interrogation, Streetwise 13-

     5  Jab +1 / +3 Strike
     4  Punch +0 / +2 Strike +2d6 =
     5  Kick -2 / +1 Strike +4d6 =
     4  Block +2 / +2 Block, Abort
     4  Dodge - / +5 Abort
     3  Throw +0 / +1 Strike +v/5
     4  Escape +0 / +0 +15 Str vs Grab                    (layout borrowed)
    16  4 Martial Damage Classes

    24  3 Combat Levels
     2  +1" Running


---
ORIGIN: as told in DC universe
TACTICS: stand back and let'em really hear it, chop'em when they get close.
COSTUME: more gothic lately.
PERSONALITY: very evened out now, very level headed, experienced and seasoned.
BACKGROUND NOTES:Dinah's been through some rough times in my campaign. She witnessed first hand from the JLA satellite as Tyrannon basically ate the DC earth. She presumed that Oliver and all her friends were dead for a long time. She was rescued into the champions universe by Warp-Walker, but wandered alone for a long time. She got put into a coma in a fight with the daemon Kratchowaer. while she was in the hospital she was carried off and raped by the Demogoblin. From this union there was born a mutant daughter. Martia Lance Richards was adopted by Reed Richards & Sue Storm after their children were killed by Tyrannon. Dinah eventually met her daughter and lived a while with the FF. She was invited by Capt.Justice back to Alabama and there she eventually met Oliver Queen again, and their old love came back. She's 50 now, and Oliver's 52, but she looks 35, and he looks 70. They make do.