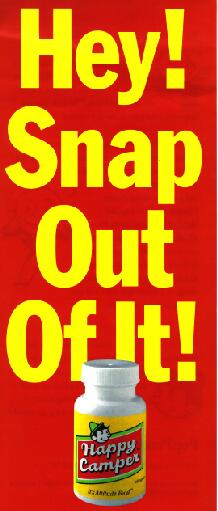 Everybody's Had One Of Those Days.

You feel like something stuck on the bottom of an old shoe. Your're so stressed your teeth hurt, so irritable your own dog is looking for a place to hide. Well, snap out of it! It's time for Happy Camper(tm), the all natural herbal formula that can help turn even your worst day around.
Is that a smile?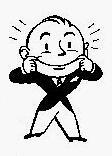 Happy Camper became world famous almost the day it was introduced, the mood adjuster movie stars were talking about. But there's more to Happy Camper than just a catchy name. Happy Camper contains a special blend of lab-tested herbs from all over the world. Known for centuries to improve your mood, herbs such as Kava Kava, Gotu Kola, and Schizandra help you look at things in a whole new light and put a smile back on your face,
Be a Happy Camper and do something nice for yourself.

Don't let a bum day get the best of you. Try Happy Camper and throw a party, fall in love, go bungee jumping, buy something you can't afford or stand out in the rain and sing a song. You see! Things are looking up already!
PepProducts, Inc.
For More Information Call 800-833-8737
These statements have not been approved by the Food and Drug Administration. This product is not intended to diagnose, treat, cure or prevent any disease.
(c)1996 Pep Products, Inc.